Year-Round RV Living: Is It Right for You?
Is living in an RV a practical way to cut housing costs? Would it suit your lifestyle? Our RV readers share the pros and cons of year-round RV living.
Gary,
I have been toying with the idea of buying a small RV and parking it in an RV lot to cut costs instead of renting an apartment (very expensive where I live). I currently live with family, but I would like to move out. I am single without children/pets and do not want to spend a lot of money.
Has anyone else experienced RV living? How difficult is it to hook up the RV? Does one use the hook ups at the RV park? And will they do the hook up for you?
I have never even been in an RV but have read that more people are doing this. Any ideas and feedback would be most welcome. I work a couple of part-time jobs, but even put together, I cannot make enough to rent even a studio apartment. Ideas about what to look for in an RV and a park would be most helpful.
Margo
The Costs and Challenges (and Pros!) of Year-Round RV Living
We reached out to our readers for advice. Read on for the very helpful and informative responses from our many readers who currently own or have owned RVs so you can make a more informed decision as to whether full time RV living may be a good housing solution for you.
Would She Recommend RV Living? Absolutely!
Well we lived in a RV for 3.5 years. We had a large one and lived with our five children. Would I recommend it? Absolutely!
It's not hard to hook everything up and level the RV. If you get in with a nice landlord, he will help you and you can learn the basics. I would recommend a fifth wheel instead of a tow behind trailer because of the storage capacity difference. And you would want to look for one with a washer/dryer or make sure there is room for a moveable one that you hook up to your sink. (Washing clothes can become very expensive and a hassle!)
Make sure you take care of the "little problems" immediately, like any leaks. (Again, a good landlord will help you or refer you to someone who can.) There are different rent situations, too. The one that helped us save the most money was when the electric and water was included in the lot rent.
We lived in three different states and in three different RV parks, plus in a vacant lot for a time (with the owner's permission). Two of them were nice and the third was full of very questionable people, but we didn't die (or even get hurt). We saved money and we were able to check out different areas before settling into the one we wanted to stay in.
Also, when deciding where to park the RV, look at the way the park is kept up. Trees are nice in the summer, but not always nice in the winter with storms breaking limbs and all. But if the park takes care of the grounds, and the trees are healthy, that won't be such an issue. You don't need a country club with three pools and a golf course, but a decent place where they keep the grass mowed is appreciated.
It can get cool and drafty in the winter, so invest in some blankets to hang in the windows (they don't have to cost much, but they really help!). Also, a dehumidifier is very important in the winter as it's like a pop can with sweating. It sweats, however, on the inside because the cold is on the outside. The dehumidifier helps prevent mold and mildew, plus it helps the wallpaper to not peel. (We bought a very small one for $30 and it was enough for our entire RV.) (See Is Too Much Moisture In Your Home Costing You?.)
We still have our 40′ fifth wheel. We now have a sixth little one, so I don't think we'll be moving back in, but we all have fond memories and would repeat the experience if given the chance (and a bigger RV now). It's an ideal way to set up housekeeping and not spend a fortune. Plus, in the end, you have the potential to recoup your investment by selling your RV.
Jonna
Subscribe to After 50 Finances, our weekly newsletter dedicated to helping you plan for a comfortable retirement even if haven't saved enough. Subscribers get The After 50 Finances Pre-Retirement Checklist for FREE!
You deserve a comfortable retirement.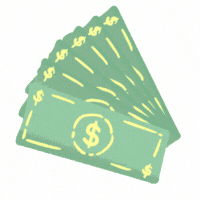 Subscribe to After 50 Finances, our weekly newsletter dedicated to people 50 years and older.
Each week we feature financial topics and other issues important to the 50+ crowd that can help you plan for a comfortable retirement even if you haven't saved enough.
Subscribers get The After 50 Finances Pre-Retirement Checklist for FREE!
We respect your privacy. Unsubscribe at any time.
Visit Multiple Parks before Making a Choice
My husband and I have been full-time RVers for nine years so we know about RV living. Before you go and buy an RV, visit some of the RV parks in your area and find out the annual cost to stay there and see if it is a place you would like to live.
Does the price to stay there include water and sewage? Electricity is usually separate and paid by the renter. There is a big difference in parks.
Is it in a safe area and are the grounds neat and clean?
If you find a park that meets your needs, when you buy the RV, there is a good chance that they will deliver it to your park and show you how to hook it up. Once it is hooked up, you will be set for good. You should also ask the campground about any fees to the city, as taxes.
Dawn
Depending on Location, Freezing Pipes May Be Issue
Living in an RV can be very inexpensive compared to renting an apartment. I worked at a year-round campground, and for one year, it was just over $4000 for the year, not including utilities. You didn't say where you lived. In New England, winters are cold and your propane fuel bill will be high. You have to insulate the underside of the trailer.
As far as hooking up to septic, your trailer should come with directions. Again in the winter, this will be slightly different. You have to prevent pipes from freezing. Electric and cable hook ups are at the sites. We had several families living at our campground and loved it. Your neighbors are constantly changing and you get to meet people from all over the world. Your campground manager should be able to help you also.
Jeanne
Great Opportunity to Meet People
After retirement, my husband and I and two small dogs traveled and lived in an RV for four years. It was a large one, but if you are happy in small spaces, a small one will do very well. We did it for travel, but spent one year in one park before we decided where to settle down. I love RV living and would go back to that lifestyle in a heartbeat. You become closer to your neighbors because you are in and out, sitting outside, riding a bicycle, using a grill, etc.
In most cases, the park takes care of the "yard work." However, you may have flowers and plants in pots.
My husband took care of "hook-ups" for water, waste, electricity, TV reception, and so on. But once that is done, it is usually just left alone. There could be an occasional clog, but usually it can be easily solved. None of this is difficult to do. I have met many women who traveled alone in an RV and attended to everything.
Your RV will already be equipped with a cooktop, oven and/or microwave, refrigerator, seating, table, bed, A/C, and heat. The bathroom usually comes with a shower, but sometimes a small tub. Pay attention to the amount of storage, as spaces seem to fill up over time. RV parks usually have bath/shower facilities, coin washing machines and dryers, meeting rooms, a library or book trade, outdoor grills, and often planned activities. Our RV had a washer/dryer combo, so I used the park washers only for very large items.
You will not have room for a house full of furniture, of course, but you can decorate with small things to take care of that "creative need." (With a small tree and window top decorations, I decorated for Christmas.) It is definitely a cheaper way to live, especially in warmer parts of the country. (See Downsizing Your Stuff When Moving to a Smaller House.)
Check out RV stores for books and magazines with all kinds of advice. Check all the campgrounds in the area for rates and desirability. Visit the park before deciding, as there are good parks and some that are not as nice. Be sure there is adequate drainage around your location. (We once had to wade in several inches of water after a moderate rain in one of the parks we spent a night in.)
Joyce
RV Living Research at Your Fingertips
Go to CampgroudReviews.com by RV Life. You can search by state and city to find particular RV Parks. There will be websites for the actual RV parks that provide more specific details.
Rachel
Creative Twist on RV Living
We own a ranch in semi-rural area. We have several travel trailers on our property. We have a person who lives in one of them. They pay no rent but do keep an eye on the place. It is our way of having extra security. They just watch, and if anything looks out of place, they call the sheriff for us. We provide the trailer and utilities in exchange for them keeping an eye on things. It's a win-win situation.
Maybe the reader might want to see if any ranches or similar place would consider this type of arrangement. All the farms and ranches in our area have someone living in a trailer on them. We are about 24 miles from a large town so that might be a consideration for driving, etc. This way, she wouldn't have to buy a trailer and wouldn't have to worry about hookups. It doesn't cost us anything except the small amount of electricity they use. That is a small price for us to pay for the added security.
Cheryl in Aguanga, CA
Sign me up for a comfortable retirement!
Every Thursday we'll send you articles and tips that will help you plan for and enjoy a comfortable retirement. Subscribers get a free copy of the After 50 Finances Pre-Retirement Checklist.