Solo Cooking and Dining On a Budget
Meal planning for one isn't as easy as one might think. You have different challenges than meal planning and cooking for a family. These tips can help make it easier and cheaper.
Managing a food budget is daunting in any household, but for someone living alone, it can be especially difficult.
Those of us flying solo have to deal with family-sized food-package portions that frequently end up going to waste, active social calendars that almost always revolve around eating out, and the feeling that it's not really worth it to prepare a home-cooked meal for just one person.
But singles also have complete freedom in choosing what, when and where to eat and that means freedom to bring food expenses under control.
Grocery Shopping
Frugal wisdom suggests doing any type of shopping as infrequently as possible, because if you're not in a store you can't spend any money there!
The single person can follow that advice with non-perishable grocery items by buying larger quantities less frequently, but not with perishables like fresh fruit and vegetables.
Why? Buying produce in family-size quantities means that a lot may go to waste if you cannot use it all before it goes bad. And that means money down the drain. Do take a major monthly food-shopping trip for staples and non-perishables, but also get in the habit of stopping by the grocery store once a week to re-stock your perishable items with smaller-sized portions.
You deserve a comfortable retirement.
That's why our weekly newsletter, After 50 Finances, is dedicated to people 50 years and older.
Each week we feature financial topics and lifestyle issues important to the 50+ crowd that can help you plan for and enjoy a comfortable retirement even if you haven't saved enough.
Subscribers get The After 50 Finances Pre-Retirement Checklist for FREE!
Sign up today for your comfortable retirement.

We respect your privacy. We hate spam. Unsubscribe at any time.
Buying in Bulk
Single people can and should buy non-perishable staples in bulk to benefit from the savings. Even if you're in tight living quarters, you can still enjoy the cost-cutting advantages; you'll just need to be resourceful about storing the additional quantities.
Buy a few large storage containers (they'll pay for themselves in the long run) for your back-stock and put them wherever you can find room: on a closet shelf, under your bed, in the trunk of your car.
Be creative. Food that doesn't need to be refrigerated doesn't have to be stored in the kitchen! But remember, "out of sight, out of mind." Keep a master list in the kitchen so you don't forget what you have on hand.
Eating on the Run
Single people tend to be out and about a lot and chronically short on time. Snack-size portions are great to have on hand for packing a frugal lunch or eating on the fly while running errands.
Unfortunately, pre-portioned purchased foods are more expensive because of the cost involved in the extra packaging. But it's easy to create your own pre-portioned snacks.
When you get home from the grocery store, divvy out portions in small plastic bags. Then when you are packing your lunch or heading out the door, grab a bag or two and your inexpensive snack is ready to go!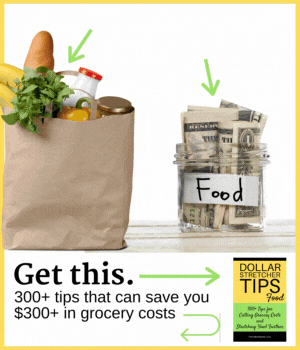 Multi-Meal Cooking
At the end of a long day, you may not have the energy to prepare a complete meal, making it all too easy to compromise your financial and/or dietary habits by picking up take-out or fast food.
To guard against that, keep your freezer full of healthy, pre-cooked food. But don't stock up on the heat-and-eat meals sold at grocery stores, which can be as expensive as take-out. Instead, spend a few hours each weekend cooking casseroles and side dishes. Divide them into individual servings using containers, tin foil or plastic bags. Label the items and freeze them. (See How to Prevent Freezer Burn.) At mealtime, just pull out your choice of dishes, thaw and heat in the microwave, and add a salad or piece of fruit to round out the meal.
Cooking can be a fun, creative activity when you're not tired and hungry. Make it an enjoyable process and you will reap the financial and gastronomic rewards.
Dining Out
Eating out is a favorite social activity, but too many restaurant meals can ruin your food budget.
Reduce the cost of eating out by keeping in mind that interacting with your loved ones or friends is the most important element of the event. Save the fine dining experiences for special occasions and opt for casual outings. Chat over coffee rather than a meal.
Instead of dinner, meet for lunch, when prices are cheaper for the same dishes. Find places that offer good food and the ambience you enjoy but have reasonable prices. To minimize the cost of your meal, bypass the appetizers. Also, select a meatless pasta dish or soup and salad or sandwich for your entrée, stick with water for your beverage, and skip dessert.
Afterwards, serve coffee and a simple dessert at home for a low-cost treat.
Sign me up for a comfortable retirement!
Every Thursday we'll send you articles and tips that will help you enjoy a comfortable retirement. Subscribers get a free copy of the After 50 Finances Pre-Retirement Checklist.
We respect your privacy. We hate spam. Unsubscribe at any time.