Just 4 Ingredients to a Cleaner House for Less
Use these tips and recipes to have a cleaner house for less with just four ingredients – baking soda, salt, bleach and vinegar.
Baking soda, salt, bleach and vinegar can save the day and your budget, too when it comes to a clean home.
It's easy and quick to make household cleaning supplies with them. Here are a few ideas to get you started.
Vinegar and Salt
Mix vinegar with water at a ratio of about three parts water to one part vinegar. This will disinfect counters and sinks, as well as remove hard water deposits from faucets/showerheads, etc. It's cheap by the gallon and will last a long time. I put it in a spray bottle for convenience, clearly marked of course.
Vinegar can also be used to clean your dishwasher each month. Just put a small dish of it on the bottom of your dishwasher, under the lower rack. You can add glassware to remove hard water spots on them at the same time. You can also fill the rinse dispenser with vinegar instead of an expensive commercial product.
Salt and vinegar also make a good cleaner for copper pots. Just dampen the pot with vinegar then sprinkle on a bit of salt and scrub. Your pots will look like new.
Vinegar also makes a good fabric softener in the washing machine. There is no odor when the clothes are dry. This is particularly good if you are bothered by the strong scents of dryer sheets or liquid softeners.
You deserve a comfortable retirement.
That's why our weekly newsletter, After 50 Finances, is dedicated to people 50 years and older.
Each week we feature financial topics and lifestyle issues important to the 50+ crowd that can help you plan for and enjoy a comfortable retirement even if you haven't saved enough.
Subscribers get The After 50 Finances Pre-Retirement Checklist for FREE!
Sign up today for your comfortable retirement.

We respect your privacy. We hate spam. Unsubscribe at any time.
Bleach
For those items that need whitening and more rigorous disinfection, you can use a diluted bleach solution. Mix about two teaspoons bleach to a quart of water for most purposes. Follow directions on the bleach container. Be sure to keep this out of reach of children, just as you would undiluted bleach, as well as mark it clearly. A Sharpie or other permanent market works well for this.
Baking Soda
I save by using baking soda as a mild abrasive to remove stains from the refrigerator, microwave and even the countertops. It can also be combined with vinegar to clear clogged drains. In combination, it will fizz, so don't be alarmed. Just put in the baking soda first, then the vinegar. Use one-half cup of baking soda to about one-half cup of vinegar. Wait a bit after the fizzing before rinsing the sink.
Baking soda and/or washing soda can boost the effectiveness of laundry detergent, too. Follow directions on the box.
I also use baking soda to remove stubborn coffee and tea stains in my favorite mugs. I keep some in an old spice jar with a sprinkle lid for this and other quick cleaning purposes.
You can buy 12-pound bags of baking soda at the warehouse clubs very cheaply if you plan to use large amounts. Generic baking soda, bleach, salt and vinegar are just as good as name brands, since all must meet the same standards.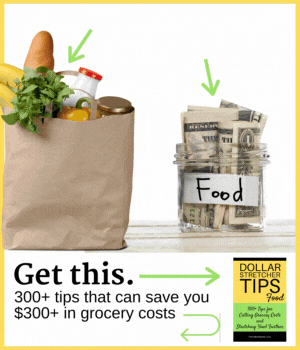 These ingredients are safer for our environment and cheaper than commercial cleaning products. You will save time, money and space by using them.
For more ideas on ways to clean with these ingredients, search the internet. There are many sites that offer additional "recipes" for household cleaners.
Sign me up for a comfortable retirement!
Every Thursday we'll send you articles and tips that will help you enjoy a comfortable retirement. Subscribers get a free copy of the After 50 Finances Pre-Retirement Checklist.
We respect your privacy. We hate spam. Unsubscribe at any time.