18 Ways Empty Nesters Can Cut Grocery Bills
Food shopping needs change once kids fly the coop. The ways you can save on food bills change as well. Try a variety of these tips to trim food costs each month. It will leave more for your retirement accounts or a visit to the grands!
So the kids are gone and it's a new stage of life. You'd like to cut expenses so you can save a little more for retirement. How about seeing if you can save a little on your food budget?
Groceries consume 10 to 20% of the average family's take home income. Add the fact that you make purchase decisions almost daily and you have a perfect opportunity to save some bucks.
Here are a variety of ways that you can spend less on groceries:
1. Buy in-season produce.
Junior loved strawberries whether they were in season or not. And you could get them year round if you wanted. But you paid more than you needed to. If you buy produce that's in season locally you'll be buying at discounted prices.
2. Don't be fooled by bulk buys.
There was a time when buying the larger size meant a lower per unit cost. Then the marketers realized that you don't always compare unit prices. In today's grocery store, a bulk buy might save you money. Or it might not. And, if you're only cooking for one or two, there's no need for bulk buying.
3. Only buy what you'll eat.
It's estimated that Americans throw away up to 20% of the food they buy. It might be the leftovers in the back of your fridge or the veggie that looked so tempting in the store but you forgot to prepare for dinner. Adjust your shopping and cooking habits to reflect your smaller family size. Wasted food is wasted money.
4. Meal plan using sale items.
It's easier than ever to find out what's on sale before you head to the grocer. No need to pore over grocery ads in your newspaper. Just visit their website. Plan your menu with sale items. You can even search for new recipes that include those sale items!
5. Buy damaged produce and canned goods.
You'll probably need to ask the produce manager or the help desk what they might have available, but most stores are happy to sell misshaped or bruised produce at a fraction of the cost. Same thing for dented canned goods.
6. Buy marked down meats.
Your grocer will mark down unsold meats when they approach their 'sell by' date. Find out when that happens and do your shopping at that time. You'll reduce the cost of one of the most expensive items on your shopping list.
7. Visit your local farmers market.
Buying locally grown produce has become popular. And, for good reason. Not only is it fresher, but it's often less expensive, too!
You deserve a comfortable retirement.
That's why our weekly newsletter, After 50 Finances, is dedicated to people 50 years and older.
Each week we feature financial topics and lifestyle issues important to the 50+ crowd that can help you plan for and enjoy a comfortable retirement even if you haven't saved enough.
Subscribers get The After 50 Finances Pre-Retirement Checklist for FREE!
Sign up today for your comfortable retirement.

We respect your privacy. We hate spam. Unsubscribe at any time.
8. Grow your own.
You don't have to live out in the country to grow your own veggies. And, now that the kids have moved out you have more time. Gardening is a wonderful hobby. Even apartment dwellers with a balcony can have a container garden. Lettuce, tomatoes, potatoes, onions, carrots, peas, etc., are easy to grow and taste better than anything you'll buy at a store!
9. Avoid prepared and prepackaged foods.
Sure it's convenient to pull something out of the freezer, pop it into the microwave and be eating a few minutes later. But you pay a lot for that privilege.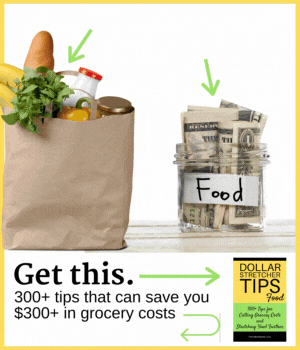 10. Use your freezer instead of take-out.
We're all tempted to visit the drive-thru when we're busy and hungry. But a $9 fast food burger is an expensive sandwich. Instead package your leftovers into freezer meals. Pull a plate, nuke in the microwave, and you'll have a better meal for pennies.
11. Make friends with your freezer.
Many recipes are for 4 or 6 people. If you're cooking for 2, plan on freezing half of what you cook for a future meal.
12. Change your work lunches.
It's easy to spend $50 or more each week on lunches that are more filling than healthy. Why not bring lunch from home? You'll save money and your health. Plus you'll find fewer 'science experiments' in the back of your fridge!
13. Keep it simple.
A healthy diet doesn't require fancy recipes with exotic ingredients. Buying special spices for a recipe that you only make once can quickly bloat your grocery bill.
14. Shop ethnic food stores.
Many immigrants know the secrets of frugal foods. You'll find surprising ways to save if you shop and cook like they do. Often you don't even need to change where you shop. Just look for an ethic section in your favorite grocer.
15. Fill up on less expensive items.
It's easy to make meat the main item in a meal. But if you want to keep costs down, shrink your meat portions and fill up on fruits, veggies and carbs.
16. Stock up on sales.
Have enough flexibility in your budget so you can stock up when an item is sale priced. There are some things that you know you'll consume. Use sales to buy more than you need now. You'll save later.
17. Change the way you cook.
You're not cooking for the whole family anymore. Now you're cooking for just one or two. Adjust your recipes to reflect that change. Most recipes can be cut in half. Or you can easily find recipes designed for 1 or 2 people.
18. Adjust your schedule.
There was a time when your teens' scheduled dictated when you had to have dinner ready. That's no longer true. Adjust to your schedule. Let cooking be an enjoyable part of your day. That might mean having dinner at 4pm or 8pm. As long as it works for you it's fine!
Will you be able to use all of these methods in your home? Of course not! But the more you put to use, the more you'll reduce your grocery budget. And given how much you spend on food, the savings can make a big difference by the end of the month. That leaves more for your retirement accounts or a visit to the grands!
Sign me up for a comfortable retirement!
Every Thursday we'll send you articles and tips that will help you enjoy a comfortable retirement. Subscribers get a free copy of the After 50 Finances Pre-Retirement Checklist.
We respect your privacy. We hate spam. Unsubscribe at any time.